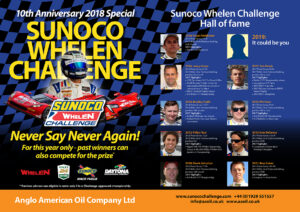 Never Say Never Again!!!!!
The Sunoco Whelen Challenge will be open to past winners for the first time ever, in a one-off season to celebrate the 10th anniversary of the prize.
The challenge winner has previously won the chance to race in the Daytona 24 Hours, with last year's winner Stuart Middleton taking second overall in an Action Express Cadillac.
The prize is open to pro drivers in British GT, BRDC British F3, UK LMP3 Cup and Radical European Masters.
"As it's the 10th anniversary we thought we'd try and spice it up to get some of the past winners in and see if they can win it again," said Anders Hildebrand, managing director of Anglo American Oils. "Jonny Adam, Phil Keen, Bradley Smith, they can all do it".
"I thought it would be an amazing battle as they know what they have to do to win with fastest laps and pole positions. It just adds another dimension to it and I thought it would be fun."
Points are awarded for race results, pole positions and fastest laps. In a two driver team, both drivers get points for race result but the pole position and fastest lap points are given to the driver that gains them. The points are divided between the number of races in a season, to create an average score for each driver.
#inittowinit @BritishGT @LMP3cup @MINIChallengeUK @JonnyAdam @philkeenracing @DerekJohnston41 @StuMiddleton75 @mectechbrad