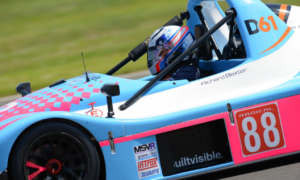 Richard Baxter won the Sunoco Driver of the Weekend award at this year's Radical Challenge Championship race meeting at Snetterton in the UK.
He got back in touch with us to share his story and to talk about his first win!
On a cold February day in 2016, I had my very first taste of Motorsport.
Working with my friend and coach Scott Mansell, we'd spent two days at Blyton Park learning enough car handling technique that I'd be probably able to handle a test in my Radical SR1, an entry level Sports Prototype.
I'd decided that I wanted to get started in racing, at the ripe old age of 37 years old.
1 year and 7 months later I'd won my first International race in a Radical SR3 at Silverstone GP.
I wanted to write to thank Sunoco for the opportunity and talk a little about how to get started in Motorsport if like me, you'd like to get into the race seat as an Amateur driver.
Over the past year or so, I've learned some valuable lessons when it comes to testing, racing and running a race car. Here are some of the most important:
Get a coach and learn car control in something slow, like a road car.
Learning car handling is your top priority. Nothing else matters until you've mastered the basics of corner entry, rotation and corner exit managing oversteer, or understeer. Learning to control a car on the limit of it's grip is easier if it's slower and softer, making a road car the perfect choice.
Indeed, Rob Wilson coaches F1 drivers in his Vauxhall at Bruntingthorpe!
After half a day of tuition in the road car, learning about grip, practicing my vision and slow corner technique, it felt like a whole new world had opened up.
Vision is everything. Look in the right places on the circuit and you go faster.
It sounds obvious but it needs to be said: if you're not looking where you want to go, you're going to really struggle in the car. An early mistake I made was staring intently at the braking point, rather than scanning across for the apex as I'm approaching the braking point and the exit as I'm coming out of the braking phase and entering the corner.
Prepare yourself
I think the main thing that made a difference to my day on the circuit has been my physical fitness. I train twice a week with a bit of bodyweight, flexibility/mobility, resistance and cardio-vascular exercising. What I found at first is I'd get so tired that by midday I'd stopped learning anything. Your body and your mind are both really important and one being out of shape can affect the other.
I also found keeping hydrated and eating properly (not always easy at a circuit) helps too. I drink a lot of water and take occasional hydration salts (High5 is excellent).
So, on with the race itself.
The Radical European Masters is a support race to the GT Open. The standard of support at the event itself is exceptionally high, with live TV support and a lot of very professional racing teams in attendance.
The biggest difference for me over the weekend was the endurance aspect of the racing. Rather than the 20 minute sprints I'm used to, I'm in the seat for an hour with a 45 second pit stop for a rest.
The drivers at the front were fast, around a second a lap faster than the times we were putting in at Silverstone in the Challenge Championship back in July 2017.
The pressure to find the amount of consistency I needed to produce to get a decent lead and keep it was huge. Especially on a harder tyre compound.
Of course the meeting did give me the opportunity to learn, practice my racecraft and pop in a fastest laptime of 2.03.6. Not bad for an AM driver!
With the highs of Motorsport come the lows, too.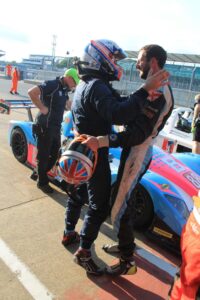 While I won my first race, I spun out of Maggott's in the 2nd race which caused a DNF. The lesson I learned was the importance of getting the car setup absolutely right, but also not asking the tyres to do something they're well past being able to provide.
Finally, race 3 yielded a 4th place finish. I'd been holding P2 for another podium, but got drawn into over-defending against Alex Mortimer and Stuart Mosely, both highly accomplished Professional racing drivers. At the time I couldn't resist getting drawn into the fight; who wouldn't?
But ultimately in Endurance, your total time in the race is more important than individual lap times or overall position. A good lesson to learn!
Overall the experience was brilliant and I'm delighted to thank Sunoco for the weekend, Nielsen for a perfectly setup car, Scott my race coach and Mark Grice, my race engineer.
If you get the opportunity to try racing yourself, here are a few places you could get started:
Compete for a works drive for a season with Radical Sportscars
Driver61's Driver's University:
Learn the fundamental techniques you'll need on track to become faster, safer and more consistent. Learn the secrets of Professional drivers with Driver 61's Driver's University.
Mini Challenge's Champion Max Bladon won the Sunoco 240 Challenge in 2016 which provided him with the opportunity to participate in the BMW Endurance Challenge race on the Friday before the Rolex 24 At Daytona back in January 2017.