Free Expert advice call us on 01929 551 557

Free delivery at events we attend*

Workshop services available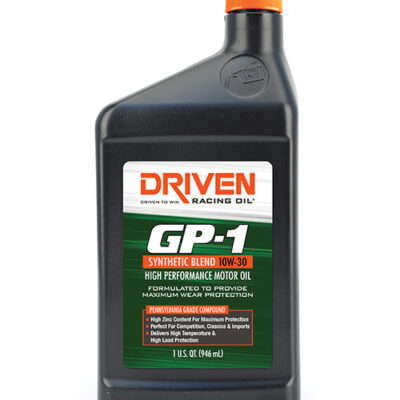 Driven GP-1 10W-30 Semi-Synthetic Blend
The Driven GP-1 range is the perfect choice for classic road and competition cars.
GP-1 features a high-zinc, synthetic blend specifically engineered and tested to deliver increased horsepower along with more than 30% better engine wear protection compared to the competition. PP-1 is compounded from Pennsylvania Grade Petroleum and selected synthetic components.
Available in 10W-30, 15W-40, 20W-50 and straight 70 grades.
Make sure you have warmed up the engine so that the oil is warm before you drain it down. Top up with the right viscosity recommended by the manufacturer or your engine builder.
All hazardous goods orders received before 12pm will be guaranteed to be dispatched the same day (depending on stock) and sent via a freight company that provides a standard 3 day signed delivery service*. For an additional cost, the option of a next day service is available throughout the majority of the UK. However, we cannot accept responsibility for orders that may be delayed in transit. Due to their hazardous nature, all fuel orders must be signed for on delivery. All routine deliveries are made during Monday to Friday. Some routes may be subject to ta longer delivery timescales.
We send most oil orders with FedEx. Typically there are 12 x US quarts in a box or 4 x 5 L cans. However, if you order fuel at the same time we\'ll send the oil on the same shipment as the fuel. The delivery cost for a box of oil is £9.50 + VAT to be delivered next day. Lower costs may apply if only ordering a few small items. You will see the exact delivery cost for your order at checkout.