Free Expert advice call us on 01929 551 557

Free delivery at events we attend*

Workshop services available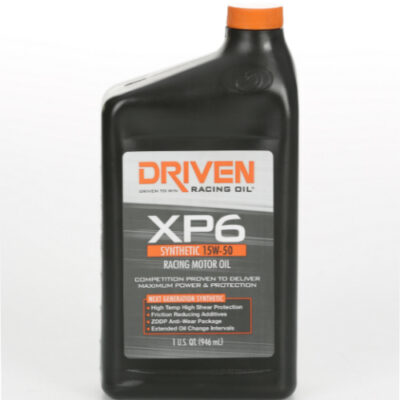 Driven XP6 15W-50 Synthetic
The XP range are pure race oils developed through years of R&D in the demanding world of NASCAR.
They do not conform to any road approval rating, which means they are formulated to win races.
The XP oils have maximum anti-wear protection and friction reduction chemistry to help protect your engine and free up power, at the expense of a shorter service life. The best choice for heavily tuned engines or where you are chasing any incremental improvements in performance.
The service life depends on the type of use. For short-duration races, where the oil is exposed to lots of heat cycles, 500 miles is a sensible figure to work with. With regular filter changes, the XP oils can prove more cost-effective than using a cheaper oil and changing it after every one or two meetings.
The synthetic oils are perfect for endurance races, including 24-hours, where their ability to transfer heat and greater shear stability will provide improved performance. The consistent running enables the oils to last longer, as they are not subjected to multiple heat cycles.
Available in 0W, 0W-10, 0W-20, 5W-20, 10W-30, 10W-40 and 15W-50 grades.
Make sure that you have warmed up the engine so that the oil is warm before you drain it down. Top up with the right viscosity recommended by the manufacturer or your engine builder. Do not exceed 25-hour service intervals for endurance racing or 1,000 miles for shorter race events.
Change the oil if it starts to go black, as that typically indicates that fuel has interacted with the oil. We recommend changing the oil filter after each race weekend and topping up with fresh oil. Change oil every third race weekend (see the colour of oil). The XP range of oils are not designed to sit in engines for long periods of time.
Driven XP race oils use a state-of-the-art mPAO synthetic base oil with a very high viscosity index. This means the XP oils do not thin out as much as regular road spec. products. This allows you to consider running a lighter grade oil than you might normally use, which will help free up more power. Due to the low detergent levels, the XP oils should not be used in a road car; the Driven Street Performance range of oils are perfect for this job.
All hazardous goods orders received before 12pm will be guaranteed to be dispatched the same day (depending on stock) and sent via a freight company that provides a standard 3 day signed delivery service*. For an additional cost, the option of a next day service is available throughout the majority of the UK. However, we cannot accept responsibility for orders that may be delayed in transit. Due to their hazardous nature, all fuel orders must be signed for on delivery. All routine deliveries are made during Monday to Friday. Some routes may be subject to ta longer delivery timescales.
We send most oil orders with FedEx. Typically there are 12 x US quarts in a box or 4 x 5 L cans. However, if you order fuel at the same time we\'ll send the oil on the same shipment as the fuel. The delivery cost for a box of oil is £9.50 + VAT to be delivered next day. Lower costs may apply if only ordering a few small items. You will see the exact delivery cost for your order at checkout.