We are pleased to announce that we are now stockists of the Full Throttle range of AGM performance batteries. These are a premium battery range, using the best practices and production methods, to ensure long service life and high output.
Full Throttle has the following advantages over other batteries:
1. Pure Lead Technology allows the battery to develop a much higher cranking current than a standard battery of equivalent size = Full Throttle batteries are at least 50% lighter and more compact than a standard battery = performance enhancement for racing applications.
2. Maximum Vibration Resistance. Full Throttle uses cast grids, solid ABS casing, over the partition welds and a unique 2-week plate curing process = less shedding of active material = superior vibration resistance.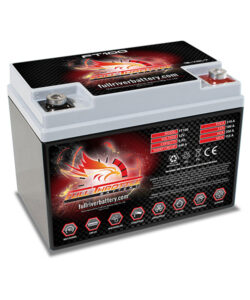 3. Fully sealed. All gases are recombined = no venting required, can be mounted in any orientation. In the event of case fracture, acid doesn't leak out = safe for use in human-occupied compartments.
4. Temperature Resistance. Cold = no free electrolyte to freeze and AGM matting helps insulation properties. Hot = epoxy-sealed case and higher pressure limit allows battery to charge at fast rates and in hotter ambient temperature.
Please do not hesitate to get in touch if you are interested in any of these great batteries!