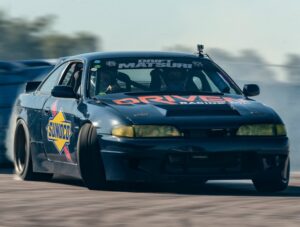 Oil Change Pack Includes: 
4.7 litres of DT40 engine oil
One HKS Type 1 oil filter
One Driven Racing oil sticker
We are offering this kit with enough oil to carry out an oil change on a standard capacity engine and an HKS type 1 filter. If your lubrication system is modified, please check your oil capacity and filter centre bolt thread size to make sure this is right for you. If you have any questions, then please contact us and we will help with anything you need.
DRIVEN RACING OIL – putting the motor ahead of the molecule
Competition drives innovation. The Driven Racing Oil range of race oils were originally created to improve engine and drive line performance in all-out race and high-performance engines.
Driven products are unique because they always put the 'motor ahead of the molecule'. Often oil companies have no real world understanding of how these products are used but Driven keeps things in the proper order. Oil is for the motor, not the other way around. Products are designed for specific applications using a "zero compromise" approach that delivers a measurable performance advantage – not to meet specific API or ACEA standards.
Why Use Driven Racing Oil?
Driven Racing Oil formulates oils specifically for engine break-in, racing, restorations and street performance engines. Today's passenger car oils are formulated to lower your emissions, and Federal EPA requirements have led to a reduction in anti-wear chemistry like zinc, phosphorus and sulfur in API rated engine oils. As a result, the oil you buy today is not the same as it was 10 years ago. 
While this is OK for your street car, it is bad news for breaking in a new or rebuilt engine, or for racing, restoration and street performance engines. These engines see more RPM, higher loads and increased temperatures compared to stock production engines, requiring higher levels of zinc, phosphorus, sulfur and other additives to prevent premature part failure, especially during engine break-in when most of the wear occurs. Driven Racing Oil contains the highest quality base oils and all the correct additives to protect your engine. 
DT40
Formulated specifically for modern sports car engines, DT40 utilises advanced synthetic base oils to provide high shear protection at higher temperatures for turbocharged and naturally aspirated engines with and without variable valve timing. DT40 reduces oil consumption by limiting oil vaporisation and foaming. Ideal for modern German, Italian, British and Japanese sports car engines. Compatible with E85 and water/methanol injection. Viscosity typical of an SAE 5W-40 product.
DT40 Synthetic Engine Oil Product Information: Typical Physical Characteristics
| | | |
| --- | --- | --- |
| PARAMETER | TEST METHOD | VALUE |
| Pounds per U.S. gallon at 15.6°C | —- | 7.07 |
| Specific Gravity at 15.6°C | ASTM D1298 | 0.848 |
| Viscosity at 40°C, cSt | ASTM D445 | 77 |
| Viscosity at 100°C, cSt | ASTM D445 | 13 |
| Flash Point (PMCC), °C | ASTM D93 | 206 |
| Pour Point, °C | ASTM D97 | -45 |
HKS Oil filter
Utilising the filters original design and increasing its filter surface area by 15%, compared with a conventional product, greatly improving particle collection performance. 
Composition
HKS Oil Filter's minimum particle size is 20μ, compared with 25μ as required by JIS minimum standards on filtration performance requirement for most engines.
Filter Life
It is recommended to replace a filter every 10,000 km or 6 months under the normal driving environment.
For sports and/or race use, it is recommended to replace a filter every 3,000 km – 5,000km since the RPM and load is increased to several times of that of a normal engine.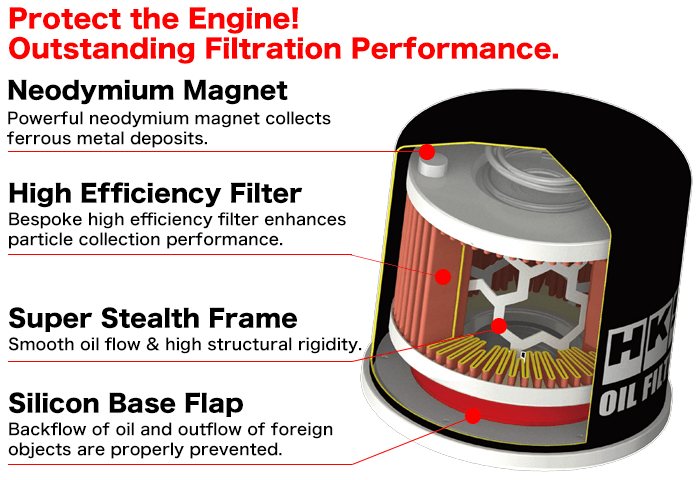 Compatibility Condition
Please confirm that the filter unit size of φ68×H65 / φ74-H85 / φ65-H50 and screw size.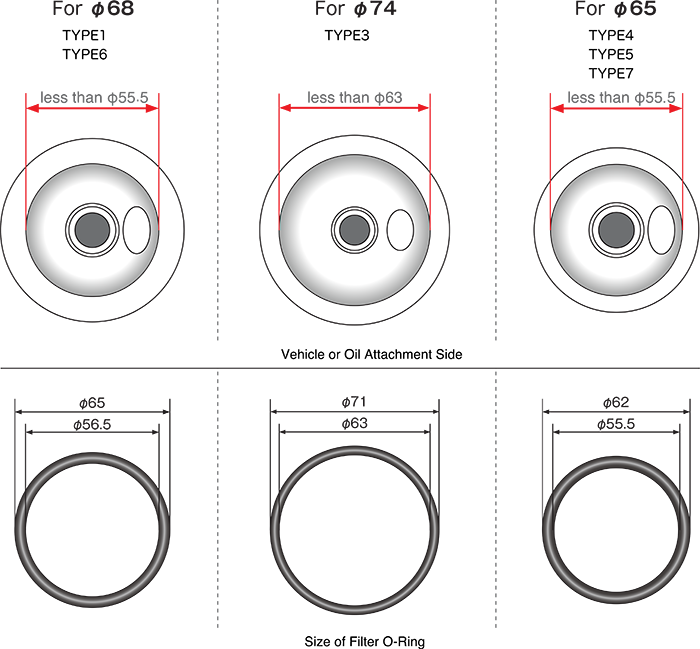 Installation to a vehicle which does not meet the above conditions may result in engine damage due to leakage of oil.
Diameter of Oil Filter Screw
 
Pitch
(mm)
External diameter
(mm)
Root dia.
(mm)
Effective dia.
(mm)
Crest angle
Using Maker
UNF3/4-16
1.5875
19.011
17.063
18.019
60°
Toyota, Nissan, Suzuki, Daihatsu
M20 P=1.5
1.500
20.000
18.376
19.026
60°
Nissan, Honda, Mitsubishi, Mazda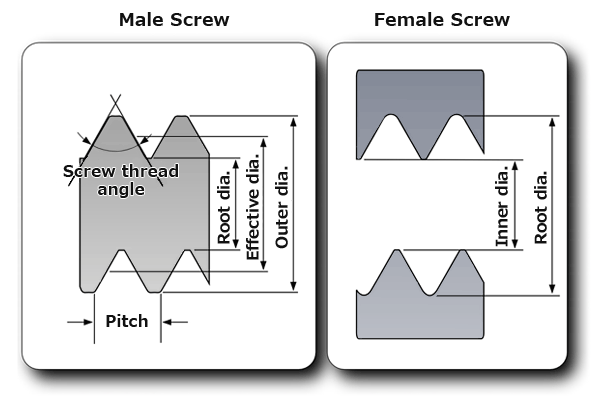 Make sure to select the proper oil filter screw size, since both screw sizes are very close. An M20 filter fits on a UNF threaded centre bolt but it may cause the leakage of oil and engine damage.
What is UNF screw?
It is a triangular thread form by inches in the ISO standard. The thread angle is 60 degrees. It is classified by the suffix "UN".
The type of screw is described by a pitch as "Coarse" (UNC), "Fine" (UNF), "Extra fine" (UNEF). There is also one for aerospace equipment (UNJ). In Japan, use of this screw type is limited only for aircraft and automobiles, but it is widely used in the United States.
JIS employs only coarse (UNC) and fine (UNF) pitches.