Free Expert advice call us on 01929 551 557

Free delivery at events we attend*

Workshop services available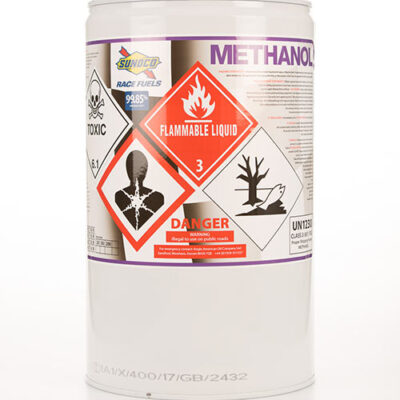 The Sunoco racing methanol is produced to the highest possible standards. Its purity normally exceeds 99.85%. Methanol's high octane value and oxygen content (50%) make it a popular fuel. Along with the ability to produce good power, its combustion is colder than that for normal petrol, helping to control engine temperatures. It does however have drawbacks. It is very corrosive when in contact with soft metals and certain types of rubber materials.
From a safety point of view you need to be aware that it burns with a colourless flame. We recommend adding Alky which increase the lubricity of the methanol and also makes it burn with a yellow flame. If you are using methanol, as a fuel, in any MSA sanctioned racing event you are required to use Alky, or a similar type of product, to increase the safety of yourself, spectators and circuit staff.
Hill climb racing cars
Historic pre–war racing cars
Drag racing
Speedway
Water injection systems
All hazardous goods orders received before 12pm will be guaranteed to be dispatched the same day (depending on stock) and sent via a freight company that provides a standard 3 day signed delivery service*. For an additional cost, the option of a next day service is available throughout the majority of the UK. However, we cannot accept responsibility for orders that may be delayed in transit. Due to their hazardous nature, all fuel orders must be signed for on delivery. All routine deliveries are made during Monday to Friday. Some routes may be subject to ta longer delivery timescales.
All our fuels come in UN approved steel drums. All drums have a 2 inch BSP bung, they are designed for safe transport and storage but do not pour very well. To avoid spillage, it is best to use a pump to decant your fuel. We have a couple of different pump options which are available in our web shop. It is best to keep unused fuel in the drum supplied with the drum bung sealed tight. Race fuels will only really deteriorate if vapours can escape or moisture can get into the drum. For this reason, we would not recommend leaving race fuel in your fuel tank for an extended period of time – this is particularly important if the fuel in question contains ethanol. Any drained fuel is best kept in a separate container to the fresh, unused race fuel.
Try and store your fuel where it is not exposed to wide temperatures swings, i.e. outside.