Free Expert advice call us on 01929 551 557

Free delivery at events we attend*

Workshop services available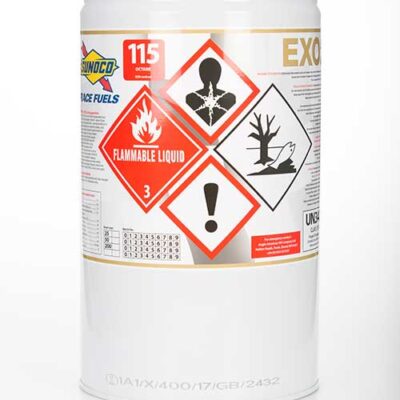 Sunoco EXO2's high oxygen content – up to five times as much as pump gas – can be beneficial in crate engines, two-barrel engines, and racing classes with cylinder head limitations, as well as engines running at higher altitudes. Due to its high oxygen content, EXO2 requires a richer air/fuel mixture. Using EXO2 without proper air/fuel mixture changes may make your engine run too lean.  Please consult the stoichiometric air/fuel ratio data in the Technical Details section below.
Since non-oxygenated race fuels typically have a stoichiometric air/fuel ratio of 14.6:1 to 15.1:1, you are likely to have to increase the fuelling by 10 to 15 % depending on the fuel you are currently using. We advise storing EXO2 in opaque, tightly sealed containers and kept where temperatures are stable. Remove drum pumps immediately after use and reseal the drum.  Properly stored, the shelf life of Sunoco EXO2 is between one and two years.
Note: Sunoco EXO2's octane values has been estimated because of the extreme oxygenation of this fuel. The octane RON value of 115 is a conservative estimate
All hazardous goods orders received before 12pm will be guaranteed to be dispatched the same day (depending on stock) and sent via a freight company that provides a standard 3 day signed delivery service*. For an additional cost, the option of a next day service is available throughout the majority of the UK. However, we cannot accept responsibility for orders that may be delayed in transit. Due to their hazardous nature, all fuel orders must be signed for on delivery. All routine deliveries are made during Monday to Friday. Some routes may be subject to ta longer delivery timescales.
All our fuels come in UN approved steel drums. All drums have a 2 inch BSP bung, they are designed for safe transport and storage but do not pour very well. To avoid spillage, it is best to use a pump to decant your fuel. We have a couple of different pump options which are available in our web shop. It is best to keep unused fuel in the drum supplied with the drum bung sealed tight. Race fuels will only really deteriorate if vapours can escape or moisture can get into the drum. For this reason, we would not recommend leaving race fuel in your fuel tank for an extended period of time – this is particularly important if the fuel in question contains ethanol. Any drained fuel is best kept in a separate container to the fresh, unused race fuel.
Try and store your fuel where it is not exposed to wide temperatures swings, i.e. outside.
You may also like…
Aluminium Rotary Pump

Rotary Pump designed to handle racing fuels – suitable...

Details

£

189.00 Ex VAT Details