Free Expert advice call us on 01929 551 557

Free delivery at events we attend*

Workshop services available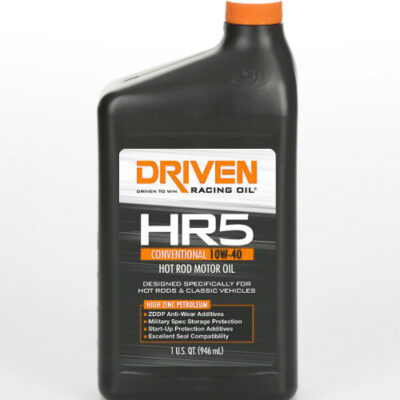 Driven HR5 10W-40 Mineral
The Driven HR range is the perfect choice for classic road and competition cars.
They have enough ZDDP to protect flat-tappet engines with increased spring pressures of up to 30% higher than stock. The detergent levels can cope with up to 8,000 road miles. The HR oils have a unique anti-corrosion pack which protects engines that see little use, eliminating the damaging effects of dry starts, and also contain an ethanol-neutralising additive to combat internal rust corrosion.
Available in 10W-30, 10W-40 and 15W-50 (mineral and synthetic) grades.
Make sure you have warmed up the engine so that the oil is warm before you drain it down. Top up with the right viscosity recommended by the manufacturer or your engine builder.
If used for racing or track days, change the oil if it starts to go black, as that typically indicates that fuel has interacted with the oil.
Racing puts more stress on oils. Although the Driven HR oils utilise a more temperature-stable base stock 2 oil, and a top-quality multigrade additive, the oil will start to thin down after several hours of racing. Although the level of thinning is much less than most other racing mineral oils, it's important to keep an eye on oil pressures. For ultimate racing applications, please use the Driven XP range of oils.
The HR range of oils are excellent storage oils, as they contain specially developed additives to protect against rust and corrosion typically caused by moisture and ethanol from the fuel.
If your oil temperatures are moderate (up to 110C) and mileage / running time is limited, then the mineral range is an ideal choice. For those situations where engine temperatures are higher or the engine is run for prolonged periods, synthetics are preferred as they will last longer and are better at transferring heat out of the engine. If the value train loadings are much over 30% compared to stock, you should be looking at the XP range to provide the right anti-wear protection.
All hazardous goods orders received before 12pm will be guaranteed to be dispatched the same day (depending on stock) and sent via a freight company that provides a standard 3 day signed delivery service*. For an additional cost, the option of a next day service is available throughout the majority of the UK. However, we cannot accept responsibility for orders that may be delayed in transit. Due to their hazardous nature, all fuel orders must be signed for on delivery. All routine deliveries are made during Monday to Friday. Some routes may be subject to ta longer delivery timescales.
We send most oil orders with FedEx. Typically there are 12 x US quarts in a box or 4 x 5 L cans. However, if you order fuel at the same time we\'ll send the oil on the same shipment as the fuel. The delivery cost for a box of oil is £9.50 + VAT to be delivered next day. Lower costs may apply if only ordering a few small items. You will see the exact delivery cost for your order at checkout.