Free Expert advice call us on 01929 551 557

Free delivery at events we attend*

Workshop services available
Zestino Gredge 07RS (soft compound)
UK stock ready for next day delivery!
Designed and tested in Japan, the Zestina Gredge 07RS road-legal, semi-slick tyre is designed with track performance in mind, offering similar levels of performance to those you would expect from a premium tyre brand at a fraction of the cost.
Suitable for track days or competition use
Road legal – E marked
Treadwear 140
MSUK (MSA) List 1b Legal for 2021 season
The soft compound Gredge 07RS is the perfect tyre for drivers who are looking to get the fastest lap times or the best performance from their vehicle during track use or when drifting.
Although this tyre is street legal, due to the soft compound we recommend that street driving should be kept to the minimum required to get you to the track so as not to put excessive wear on the tyre. If you would like a tyre which works well both on track and on the road, we recommend trying the medium compound Gredge 07R.
For advice on tyres, please email zestino@aaoil.co.uk or call the office on 01929 551557 (opt 1).
Drifting advice
The Gredge 07RS is a serious tyre with a motorsport compound. It provides incredible wet weather grip, but 500bhp+ is recommended to break traction during dry weather drifting. If this is your first time looking at semi-slicks for drifting, we recommend that you start off by trying the Acrova 07A, which will last longer and will be easier to drift due to the harder compound.
Note: Caution should be taken in extreme wet conditions, as semi-slick tyres are not designed to dissipate the same volume of standing water as regular road tyres.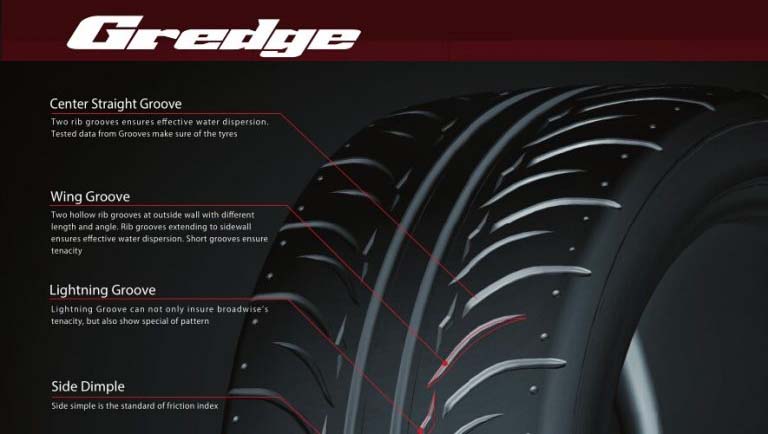 Tyres will be sent packaged in pairs (with minimal packaging to reduce waste) or on a pallet service dependant on what is most suitable.
Up to 12 tyres will usually be sent as 6 items on a next day delivery and if more tyres are ordered at the same time, a pallet service may be chosen
The built in delivery calculator works great for 95% of postcodes but we will check upon receiving your order that the correct amount has been charged and will notify you immediately if the cost is different or if we cannot dispatch the same day (if the order is placed before 13:00)
For deliveries outside of the UK mainland, please call or email the office so that an accurate delivery cost can be obtained prior to ordering online.
We will always do our best to make sure that the tyres are sent out to you as quickly as possible but please call to let us know if the order is extremely urgent. I.e if you need the tyres for an event before the weekend.
We can ship pallets to anywhere in Europe at competitive rates. Please get in touch through the office or via zestino@aaoil.co.uk / valino@aaoil.co.uk to get obtain a quote.