Free Expert advice call us on 01929 551 557

Free delivery at events we attend*

Workshop services available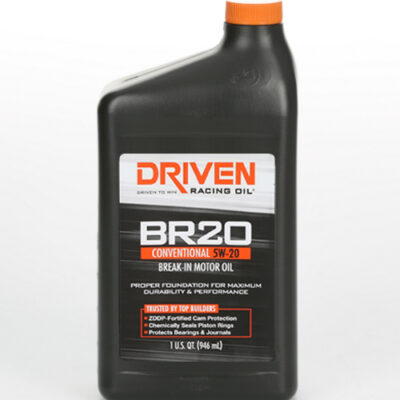 Driven BR20 Mineral Break-In Oil 5W-20
Driven break-in mineral oil is a low-detergent, high-ZDDP formulation designed to protect an engine during the critical running-in period. It will protect all types of valve train, including those using very high spring pressures, and also help create the best ring seal in the block, which is key to good compression figures.
Effective running-in can be achieved by up to two hours on the dyno/competition use or 500 road miles.
Available in 5W-20, 5W-30, 10W-40 and 15W-50 grades.
We recommend that you run the engine at 1,800-2,200 rpm for around 30 minutes on the dyno then let it cool. Continue with full power pulls, as it is important to build cylinder pressure to get the piston rings to seal. If the engine is installed in a car, follow the same principle, but after the initial 30 minutes of steady engine speed and full acceleration runs, continue to run at modest loads for around 500 miles before changing the oil. Please note: The engine will smoke through the valve cover breathers when the BR oils are used. This is due to the light end base oils that are designed to burn to aid the piston ring sealing.
All grades of Driven BR contain 2800 ppm of fast-burn ZDDP, designed to react with heat and load to promote the best engine break-in over a short period of use. The BR is specially formulated to work with the ultra-hard finishes found with Nikasil and Darton Sleeves.
It is strongly advised not to add any additional ZDDP additives to this carefully formulated blend. All grades have the same zinc content, so simply select the weight of oil that best suits your application.
All hazardous goods orders received before 12pm will be guaranteed to be dispatched the same day (depending on stock) and sent via a freight company that provides a standard 3 day signed delivery service*. For an additional cost, the option of a next day service is available throughout the majority of the UK. However, we cannot accept responsibility for orders that may be delayed in transit. Due to their hazardous nature, all fuel orders must be signed for on delivery. All routine deliveries are made during Monday to Friday. Some routes may be subject to ta longer delivery timescales.
We send most oil orders with FedEx. Typically there are 12 x US quarts in a box or 4 x 5 L cans. However, if you order fuel at the same time we\'ll send the oil on the same shipment as the fuel. The delivery cost for a box of oil is £9.50 + VAT to be delivered next day. Lower costs may apply if only ordering a few small items. You will see the exact delivery cost for your order at checkout.