Free Expert advice call us on 01929 551 557

Free delivery at events we attend*

Workshop services available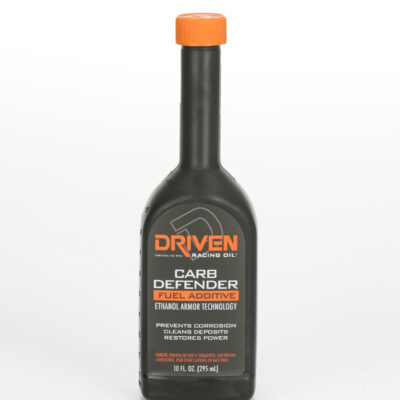 Prevents corrosion, cleans deposits and restores power. The growing use of ethanol in modern pump fuel significantly increases the risk of carburettor and fuel system corrosion. Driven's Carb Defender is specifically formulated to protect against Ethanol corrosion and induction deposits.  The 10 oz. bottle of additive treats up to 25 gallons (approx. 95L) of ethanol-blended gas and should be use with each and every full-up. It offers an ideal ethanol additive protection from Driven Racing Oil.
All hazardous goods orders received before 12pm will be guaranteed to be dispatched the same day (depending on stock) and sent via a freight company that provides a standard 3 day signed delivery service*. For an additional cost, the option of a next day service is available throughout the majority of the UK. However, we cannot accept responsibility for orders that may be delayed in transit. Due to their hazardous nature, all fuel orders must be signed for on delivery. All routine deliveries are made during Monday to Friday. Some routes may be subject to ta longer delivery timescales.
We send most orders for pitstop products, clothing, ancillary and other accessories with APC on a next day service (excluding weekends). The delivery cost for a box is £9.50 + VAT. Lower costs may apply if only ordering a few small items. You will see the exact delivery cost for your order at checkout. If you order fuel at the same time, we will send the other items on the same shipment as the fuel at no additional cost.