Free Expert advice call us on 01929 551 557

Free delivery at events we attend*

Workshop services available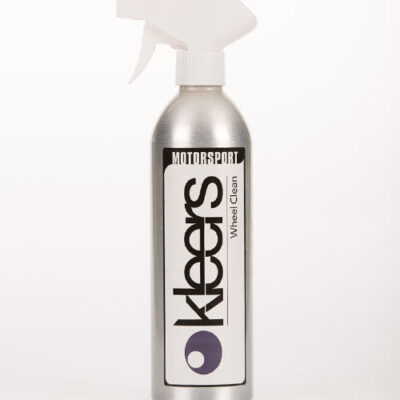 Final clearance price
For maximum performance, wheels must be clean, and maintaining them to a high standard is one of the most laborious jobs in the paddock.
That's why Kleers has developed a wheel cleaner specifically for motorsport.
Its powerful, acid-free formula has been tested by teams all over the world – including the 2011 FIA GT1 World Champions. Brake dust and rubber 'marbles' are easily removed, which saves time and effort, resulting in a more efficient and better-presented wheel.
All hazardous goods orders received before 12pm will be guaranteed to be dispatched the same day (depending on stock) and sent via a freight company that provides a standard 3 day signed delivery service*. For an additional cost, the option of a next day service is available throughout the majority of the UK. However, we cannot accept responsibility for orders that may be delayed in transit. Due to their hazardous nature, all fuel orders must be signed for on delivery. All routine deliveries are made during Monday to Friday. Some routes may be subject to ta longer delivery timescales.
We send most orders for pitstop products, clothing, ancillary and other accessories with APC on a next day service (excluding weekends). The delivery cost for a box is £9.50 + VAT. Lower costs may apply if only ordering a few small items. You will see the exact delivery cost for your order at checkout. If you order fuel at the same time, we will send the other items on the same shipment as the fuel at no additional cost.