Free Expert advice call us on 01929 551 557

Free delivery at events we attend*

Workshop services available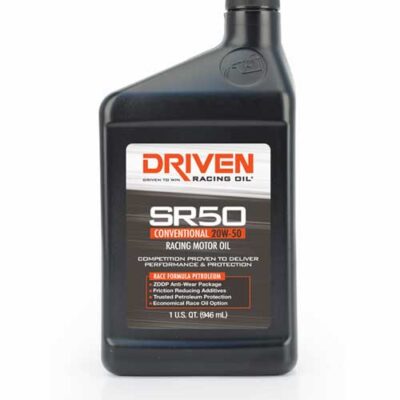 SR50 is designed as a cost-effective race oil that fits in between the HR1 and XP4 in terms of service life and anti-wear levels.
It is a robust mineral motor oil designed to be used where frequent oil changes are needed to eliminate the build-up of dirt or fuel dilution, such as in dirt track and sportsman bracket racing. It utilises a proprietary anti-wear and friction-reducing additive package to fight valve train wear and internal scuffing.
SR50 is ideal for race engines requiring a 20W-50 weight motor oil. It provides consistent protection for flat-tappet engines and prevents lifter skidding in aggressive roller cam valve trains using either needle or bushing lifters.
All hazardous goods orders received before 12pm will be guaranteed to be dispatched the same day (depending on stock) and sent via a freight company that provides a standard 3 day signed delivery service*. For an additional cost, the option of a next day service is available throughout the majority of the UK. However, we cannot accept responsibility for orders that may be delayed in transit. Due to their hazardous nature, all fuel orders must be signed for on delivery. All routine deliveries are made during Monday to Friday. Some routes may be subject to ta longer delivery timescales.
We send most oil orders with FedEx. Typically there are 12 x US quarts in a box or 4 x 5 L cans. However, if you order fuel at the same time we\'ll send the oil on the same shipment as the fuel. The delivery cost for a box of oil is £9.50 + VAT to be delivered next day. Lower costs may apply if only ordering a few small items. You will see the exact delivery cost for your order at checkout.