Free Expert advice call us on 01929 551 557

Free delivery at events we attend*

Workshop services available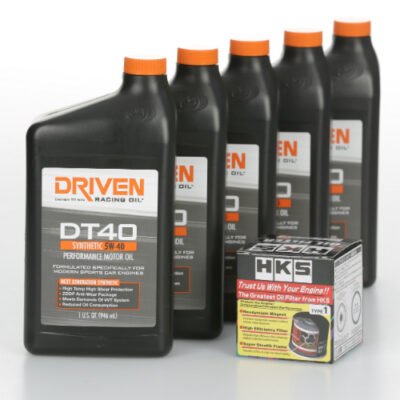 Driven Racing Oil DT40 and HKS Pack For Late Nissan SR Engines
High-quality oil change pack for Nissan S14 and S15 SR engines.
Pack contains 5 x quart bottles of DT40 (4.7 litres total) and one HKS type 1 oil filter.
Please check your oil filter housing thread size to ensure it will fit your vehicle.
DT40
High-Temp and High-Shear Protection
More ZDDP Anti-Wear Additives than road spec oil
Meets Demands of VVT System
Reduced Oil Consumption
HKS Oil Filter
Powerful neodymium magnets, which capture more ferrous metal deposits
High-efficiency particle collection performance due to bespoke design
Smooth oil flow and high structural rigidity
Backflow and outflow of oil and foreign objects is prevented
DT40 utilises advanced synthetic base oils to provide high-temperature and high-shear protection for both turbocharged and naturally aspirated sports car engines with and without variable valve timing.
Compatible with E85 and water/methanol injection.
It is recommended to replace any HKS filter every 6000 miles or 6 months under normal driving conditions.
For sports and/or race use, it is recommended to replace a filter every 2000 – 3000 miles, since the RPM and load is increased by several times that of a normal road car.
Oil filter centre bolt thread M20x1.5 for 1993 to 2002 Silvias.
All hazardous goods orders received before 12pm will be guaranteed to be dispatched the same day (depending on stock) and sent via a freight company that provides a standard 3 day signed delivery service*. For an additional cost, the option of a next day service is available throughout the majority of the UK. However, we cannot accept responsibility for orders that may be delayed in transit. Due to their hazardous nature, all fuel orders must be signed for on delivery. All routine deliveries are made during Monday to Friday. Some routes may be subject to ta longer delivery timescales.
We send most oil orders with FedEx. Typically there are 12 x US quarts in a box or 4 x 5 L cans. However, if you order fuel at the same time we\'ll send the oil on the same shipment as the fuel. The delivery cost for a box of oil is £9.50 + VAT to be delivered next day. Lower costs may apply if only ordering a few small items. You will see the exact delivery cost for your order at checkout.