Free Expert advice call us on 01929 551 557

Free delivery at events we attend*

Workshop services available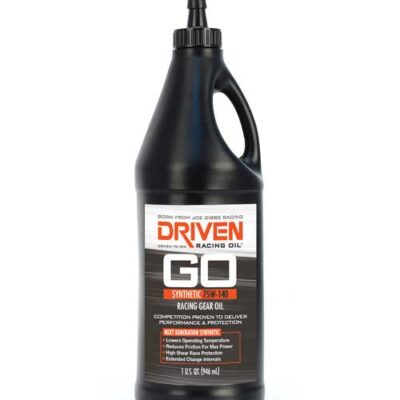 Driven 75W-140 Synthetic Racing Gear Oil
Used by top race teams in every rear end differential, this unique synthetic gear oil reduces operating temperatures by up to 15°F compared to other brand gear oils. Proven durability on short tracks and road courses. Viscosity typical of 75W-140.
The Driven range of gear oils are designed for racing gearboxes. If you have a limited slip differential which utilises friction plates you should look to use one of the LSD oils. They have an additive that makes the friction plates glide against each other to stop 'jerkiness' when pushing the car around the paddock. Typical applications for the oils include transaxles, straight cut gears and front wheel drive dog boxes.
Typically Driven racing gear oils lower gearbox oil temperatures when compared to other racing oils due to the utilisation of mPAO base stock oils which dissipate heat better than other base oils. The oils are popular in both historic and modern racing gear boxes. Not suitable for synchromesh gear boxes with bronze rings – for historic cars with synchromesh gears we recommend using the Driven mineral SAE80W-90 GL4 oil.
All hazardous goods orders received before 12pm will be guaranteed to be dispatched the same day (depending on stock) and sent via a freight company that provides a standard 3 day signed delivery service*. For an additional cost, the option of a next day service is available throughout the majority of the UK. However, we cannot accept responsibility for orders that may be delayed in transit. Due to their hazardous nature, all fuel orders must be signed for on delivery. All routine deliveries are made during Monday to Friday. Some routes may be subject to ta longer delivery timescales.
We send most oil orders with FedEx. Typically there are 12 x US quarts in a box or 4 x 5 L cans. However, if you order fuel at the same time we\'ll send the oil on the same shipment as the fuel. The delivery cost for a box of oil is £9.50 + VAT to be delivered next day. Lower costs may apply if only ordering a few small items. You will see the exact delivery cost for your order at checkout.